Today, on Record Store Day 2013, Earache Records have released what they call 'The World's Shortest Album' (more on this further down the page), and earlier in the week, the record for the shortest top ten single was broken, as the 51-second-long 'Ding-Dong! The Witch is Dead' infamously hit number two.
So, you want to make a long album. It might be hard work, but in theory you can make an album as long as you fancy, adding more and more tracks. As physical album sales plummet, the capacity of discs is no longer a problem. Sure, some people might see your sixteen-hour opus as slightly over-indulgent, but they would still get their money's worth. However, there is only so short an album can get… right?
This dawned on me during my interview with Funeral For A Friend, as we discussed their latest album, The Conduit.
A short album, as is the case with The Conduit, may be justified, but there is only so far you can go. Where is that line between satisfaction and 'wait, was that it?'.
But first: EPs. The peculiar middle ground between the long-play album and the single. The true boundaries of what qualifies as an EP are disputed, and everybody seems to have their own standards. The Mars Volta almost released a particularly epic EP in 2005, with the release of their sophomore album Frances the Mute. While it barely squeezed onto a CD at 76:57, it consisted of just five tracks, and could have topped 90 minutes if its title track had not been cut. Either way, Universal Records insisted that the band would only receive an EP salary for the album. Twisting the rules, the band decided to cut the 32 minute closing track into eight pieces. On the other end of the scale is what the band decided should be EP, 2000's Tremulant EP, just 19:28.
A more conventional example of an EP is Nine Inch Nails' Broken released in 1992. Eight tracks and 33:09 in length. Clearly marked an EP, it still found its way onto the album charts, hitting number 18 in the UK and number 7 in the US. However, as we have already seen, albums can dip into much deeper, darker and wallet upsetting territory, such as these ten.
THE BEATLES – A HARD DAY'S NIGHT (30:45)
While not particularly short compared to others on the list, but interesting anyway to see what the habits of the world's biggest and bestselling band ever, were.
It took until their ninth album, 1968's The Beatles (or The White Album), to cross even the 40 minute mark, and by a spectacular margin too, at an epic 93:35. Still, the conciseness of A Hard Day's Night it is perfectly condonable, and nobody would have batted an eyelid in 1964, as it was a perfectly normal practice at the time due to the limitations of vinyl records. It reached number one in the UK, making it one of the shorter chart toppers that the UK chart has seen. The additional appeal of it being by The Beatles (rammed at consumers by 20 images of their faces on the record sleeve) meant that nobody was going to complain.
Notably, it snatched the top spot from The Rolling Stones' self-titled debut, which was a barely different 33:24. The Beatles then knocked themselves off of the top spot with the 34:13 Beatles For Sale.
Shortest track: I'll Cry Instead (1:46)
SLAYER – REIGN IN BLOOD (29:03)
Now for something a bit less conventional, and an album that can't fall back on the format excuse. It was 1986, a year that saw the rise of the CD, and heyday of the audio cassette, which could hold up to 90 minutes of music. Metal compositions were longer opuses of doom and gloom, descriptive of the musicians' sorrows in gory detail. Slayer though, had different ideas.
Guitarist Jeff Hanneman sums up the short album situation nicely as he describes the album's origins. He told Decibel Magazine: "Hour-long records seem to be the trend these days, but you know, you listen and it's like 'you could lose this part; you could cut this song completely,' and make a much more intense record, which is what we're all about."
'Intense' is no lie. While controversial opener 'Angel of Death' clocks in at almost five minutes, from hereon in, tracks decide not to hang about, choosing 200BPM+ machine guns over manual hammers to beat listens against the back wall, in an album that didn't just twist the unwritten rules, but became the definitive thrash metal album.
Shortest track: Necrophobic (1:40)
GIL SCOTT-HERON – I'M NEW HERE (28:25)
Despite being a musical pioneer (whose revolution would be televised), the late Gil Scott-Heron seemed to be in hiding for over 15 years, with not a whisper since his previous album, 1994's Spirits. What eagerly anticipating fans got after over a decade-and-a-half was I'm New Here, a brilliant album, but at just 28:25, it seemed slightly underwhelming after such a wait. Notably, Jamie xx's remix collaboration album We're New Here was longer, at 35:35.
Shortest track (excluding sub-20 second interludes): Where Did the Night Go (1:14)
NICK DRAKE – PINK MOON (28:22)
Possibly one of the most famous 'short albums' to ever see the light of day (which is rather ironic considering its nocturnal title. Sorry, I couldn't resist.), despite it being released amongst many other 30 minute albums, its conciseness always gets a mention. This infamy, the tragic premature death of Drake, and the fact that it is a great album, have led this to become the most heavily acclaimed record on this list.
Shortest track: Horn (1:23)
WEEZER – WEEZER/"THE GREEN ALBUM" (28:20)
While Gil Scott-Heron's return was acclaimed, it was hardly a chart smash, as had been the case with Weezer's 2001 comeback album Weezer, released after a five year indefinite hiatus session. US fans clearly had no problems with its concise nature,as it reached number 4 on the Billboard chart. Short works were nothing new for Rivers Cuomo and co, as tracks eventually ditched from the unfinished space-opera concept album Songs from the Black Hole had many miniscule tracks, such as the 26-second long 'Oh Jonas'.
Shortest track: Knock-down Drag-out (2:08)
SERGE GAINSBOURG – HISTOIRE DE MELODY NELSON (27:57)
When you think of 'concept albums', what comes to mind? Intricate tales with named characters, like Pink Floyd's The Wall? Lengthy double albums like, well… Pink Floyd's The Wall? Serge Gainsbourg did the former, without having to indulge in the latter, telling the tale of a man' romance with titular woman Melody Nelson following him crashing into her bicycle. Over 40 years since its release, it still gets spectacular acclaim, such as a rare 10/10 from Pitchfork for its 2011 reissue.
Shortest track: Valse de Melody (1:31)
THE HIVES – BARELY LEGAL (27:21)
Before the Finnish five-tet hit the big time with the release of Your New Favourite Band (ironically a 28-minute best-of collection, suggesting modesty, which the title clearly disproves), came their debut album.
In 2004, The Hives released Tyrannosaurus Hives. I had recently fallen in love with their latest single 'Walk Idiot Walk', and fancied this album. Then I found out the album's length and I disappointedly decided against buying it. A heartless and ignorant decision now, but this predated me having a newspaper round, and two months worth of pocket money wasn't going to be wasted that day. However, it was still longer than their debut album. It took until their fourth album, 2007's The Black and White Album, to cross the 30 minute mark, and by quite a margin, hitting 47:57.
Shortest track: Well, Well, Well (1:02)
ELVIS PRESLEY – IT HAPPENED AT THE WORLD'S FAIR (21:58)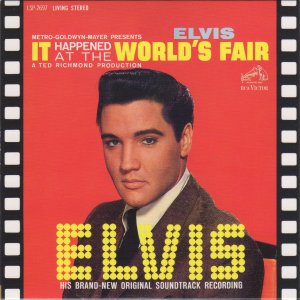 Earlier, The Beatles got a mention, but they had a decent excuses to fall back on: normality, but not exploiting their fame. It was a satisfactory, complete work. However, even in 1963, Elvis Presley crossed the line between the standards of the time, to an outright con.  When I first decided to write this post, I wanted to discuss how such albums can 'get away' with being so tiny, and this effort by Elvis Presley is the masterful centrepiece for such an article, because… he's Elvis! He rivals Pikachu as the definitive face of commercialism, and so the film soundtrack staring at you to the right, wooed consumers, reaching number four in the Billboard charts.
Shortest track: Cotton Candy Land (1:33)
AN ALBATROSS – EAT LIGHTNING, SHIT THUNDER (10:58)
As we cross into tinier territory, things get a little weirder.
Unlike Elvis, here is an album that you will not find in the charts, nor on the radio. It also remains one of my favourite album titles, though it's a record to acquire yourself, rather than asking your parents on your Christmas list. Hardly a commercial album, but remarkable for its length.
It comes as little surprise that An Albatross focus their efforts into noise rock, grindcore and exploiting irritating clown music for their art. For some, I imagine that eleven minutes of their signature chaos is plenty. Still, an entertaining few minutes for anyone who is feeling adventurous.
Shortest track: Birds (0:19)
VARIOUS – EARACHE: THE WORLD'S SHORTEST ALBUM (1:23)
The brevity of extreme metal is nothing new, and has been a favourite novelty with the Earache Records roster over the years. Record Store Day often brings a few (fittingly) record-breaking or attention grabbing novelties amongst the swarm of limited edition releases, such as Flaming Lips' Heady Fwends vinyl, filled with the blood of all of the guest performers, and bundled with instructions to keep it in the fridge. When you fuse the two, you get this compilation. Released on Record Store Day 2013, it is a five-inch £14 collection of some of the shortest tracks ever released by Earache Records, beginning with Napalm Death's infamously abrupt 'You Suffer' and closing with a grand 13-second finale from Insect Warface. The entire album is available to listen to here on Earache's official YouTube channel.
Shortest track: You Suffer (0:01)
—
Can you name any more? If so, please scroll a little further down, as there is a perfectly good comments section below for suggestions.